CØACH:

David Holland:
David Holland has lived in Atlanta since 1991 (except for a short sabbatical to North Carolina) and is an active member of the leather community. He recovered from crystal meth addiction 18 years ago and while exploring his sexuality in recovery, rediscovered kink. David will be talking about overcoming shame and avoiding the sex-negativity that can sometimes be encountered in the recovery community.
G-Man:
GMAN is excited to share his passion for rubber with you.  GMAN thinks his fetish manifested itself early, probably beginning with his fascination with latex creature costumes of so many monster movies.  Or maybe it was Jacques Cousteau and his crew in wetsuits he watched on television when he was young.  Either way, if it's skin-tight, GMAN is interested!
GMAN is active in the Atlanta gay kink/fetish scene as a member of the Hotlanta Rubber and Gear Group of which he is also a founding member.  He served as Mr Southeast Rubber 2010 and later as Mr International Rubber 2011 where he had the honor of representing the rubber community at gay kink events across the US and Canada.  In the years since he stepped down, GMAN has taken on new roles as co-producer at Atlanta Leather Pride and presenter at Frolicon and Southeast Black and Blue.
Jonathan Fenrir:
Jonathan Fenrir has been involved in the Leather and Kink community for several years now.  He has lived his whole life in Atlanta until recently relocating to Philadelphia to start the next chapter.  As a former Mr. Atlanta Eagle he loves to see people enjoy their kinks and thrive.  He is an Ambassador at Large of Panther L/L, and newly named Co-Producer of contests for Atlanta Leather Pride.
Master Dart & SIR Bart, W/ Strongman!:
Master Dart's interest in leather and BDSM play can be traced as far back as his early childhood years, citing a huge fascination with what was being done to Robin on the Batman television series…and to the furry cowboys on Gunsmoke. When other boys were caught with porn magazines under their beds…Dart was caught with a roll of duct tape. Since then he has developed an immense passion for rope bondage, not to mention the men he likes to tie up with it. Dart began his leather journey as a collared boy and gradually developed into the dominant he is today. He believes in the importance of "balance" when exploring one's dominant and submissive side in play, and that great benefit can come from experiencing both elements. Master Dart's kinky interests in addition to rope bondage include puppy play and training, chest and gut punching, and most recently, fire play. He sees himself as "proudly New Guard" because he feels that what is most important is not what happened in the past but what is happening NOW, and that our sexual self-expression should not be hindered by rigid or judgemental 'rules' from our past.  Among the cities, organizations and events Dart has presented in include sitting on the educational board for Mr. Leatherman Toronto,  Fetish Week London, Thunder in the Mountains in Denver,  GEARED Ireland in Dublin,  Leather Pride in Amsterdam, and the Hungarian BDSM Conference in Budapest.   He also hosts his own leather podcast program on ITunes, called Dart's Domain.  He shares his life with his husband, Sir Bart, and is joined with their boy Zack and his mentee, Michael Darkram.
Master Zack:
Master Zack hails from Kansas City, MO where he has been an active part of the leather community for over 25 years. In 2002 Zack earned the title of Mr. Dixie Belle Leather and was extended the title again in 2003 competing at International Mr. Leather both years. Zack's interest in leather play, kink and fetishes led him in 2002 to become a founding "Headmaster" of Kansas City Leather University – an organization that has facilitated and presented workshops and support to the community for the past 16 years. During the past 25 years Zack has enjoyed presenting topics which include leather protocol, electrical play, nipple play, flogging, mummification, CBT, heavy ass play and fisting. Most recently Master Zack has presented workshops at Fetish Week London 2018, Amsterdam Kink Academy 2016 and 2017, International Leather Sir/boy weekend 2016 and 2017, CLAW 2017 and 2018, Leather Leadership Conference (LLC) 2017, Nebraska Leather Weekend, Missouri Valley Drummer weekend and KCLU-Leather Bridges 2017 and 2018.
Michael Darkram: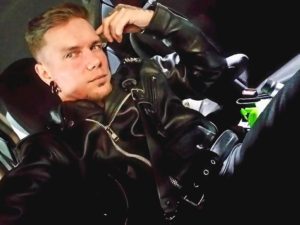 Michael Darkram is a Leatherman, Kink Performer, Artist, and Musician. He's been an active Kinkster since 2009, and identifies as a bi, dorky, switch leaning mainly toward top.  He is the founder/leader of South Virginia's kink group Edge House, and prior leader and founder of Hampton Roads Kink Revival, as well as Solas House.  He has worked tirelessly in his community with the goal of promoting safe, edgier play while standing on his passionate platform of PRK (Personal Responsibility Kink). He specializes in Fire Play & Needle play among other edgier and 'taboo' forms of kink.
In his formative years as kinkster. Michael observed himself and his peers faced with unacceptance and hostile outlooks towards those engaged in our lifestyle. He made it a personal goal to inspire, educate and arouse those would-be naysayers to elicit positive dialogue and acceptance within our own communities and ultimately the vanilla masses.
In 2013, Michael's kink community affiliation found him being approached by a member of a rebellious LGBT inclusive Rock-meets-cirque-meets-burlesque group "Mack's Daddy" to perform live BDSM performances on stage across Southern Virginia and has been doing it ever since!  You can typically catch him playing human pincushion with porcupine needles in his face, flogging gorgeous victims and performing his own hybridization of Fire eating and kinky fire play to a vastly Vanilla audience in hopes to make "What It Is We Do" enticing and more socially acceptable.
As an aside to his community activities, Michael shares his path with his leather family:  Master Dart (his Mentor), Sir Bart (Master Dart's husband), and his Leather-Uncle Master Zack (Founding Headmaster of Kansas City Leather University),  along with his extended California branch and Amsterdam family (all founding members of Amsterdam Kink Academy).
Neil:
Neil discovered erotic hypnosis in 2000 and was instantly hooked. He studied it and got a lot of practice, eventually making hypnosis (both erotic and therapeutic) his full time job. Erotic hypnosis was also Neil's portal into the wider BDSM world, and he's enjoyed mixing it with more traditional Dom/sub play. Neil lives in New York City.